1984: Project Midnight Ghost Embroidered Patch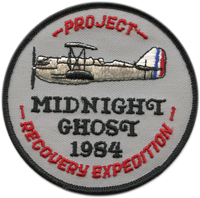 Before there was TIGHAR there was Project Midnight Ghost. In 1984, intrigued by the story of a Maine woodsman who heard an aircraft crash on a foggy morning in 1927, aviation accident investigator Ric Gillespie organized an expedition to find and recover the remains of the The White Bird. He named the effort after Charles Lindbergh's description of the French flyers' disappearance: "It's May 9th. Step by step newspaper headlines have followed Nungesser and Coli ... only to have them vanish like midnight ghosts." The expedition did not find The White Bird but Gillespie was hooked on aviation historical investigation. TIGHAR was founded the following year.
People who purchased this also purchased...