Welcome to the TIGHAR Store!
You'll find dozens of ways to participate in TIGHAR's work here, from memberships to t-shirts.
Proceeds from all sales go to support the research and the field work we have done for over 30 years.
TIGHAR is a 501(C)(3) public charity. All donations are tax-deductible to the extent permitted by law.
The Earhart Project: Film Analysis Fund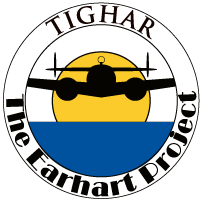 The Earhart Project
After ten years of negotiations, TIGHAR has succeeded in acquiring imagery that may finally prove whether TIGHAR Artifact 2-2-V-1 is the aluminum patch installed on the Electra in Miami prior to Earhart's departure on her second and fatal world flight attempt. Now that the imagery is safely rendered in digital format, we can start the painstaking process of forensic analysis. The end product should be a seeing-is-believing comparison between the patch and the artifact that will prove – or disprove – that they are one and the same.